Aldefran can be saved as Kraken to become an ally. He was the original Kraken, the great captain from the legend of Kraken. Due to his background he is wearing a pirate hat and an eyepatch.
First Encounter: III. Reparation. Aqua City Devil's Tickle
"I'll tear those monsters apart." - Beginning of Phantom Quests.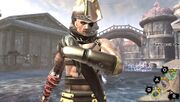 Ad blocker interference detected!
Wikia is a free-to-use site that makes money from advertising. We have a modified experience for viewers using ad blockers

Wikia is not accessible if you've made further modifications. Remove the custom ad blocker rule(s) and the page will load as expected.