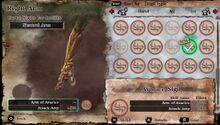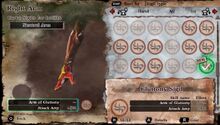 Spoiler warning!
This section contains plot details about the game.
Releases chunks from its body to damage nearby players.
Swipes with its tentacle back and forth in front of it to grab any nearby monsters to eat.
Launches itself through the air towards a player.
When low on health, starts charging towards a player while swiping back and forth with its tentacle.
The Avaricious Slime shoots out homing chunks of itself towards a player.
Cursed Parts
Edit
Upper Face
Upper Tentacle
Front Leg (Regenerates)
Rear Leg (Regenerates)
Encounters
Edit
Carnivorous Slime
Edit
Mad Chronicle
Avalon Pacts
Fellow Sorcerers
Avaricious Slime
Edit
Mad Chronicle
Avalon Pacts
Fellow Sorcerers
While it's feeding on a monster, the chunks that shoots out from its body stops, giving players a chance to close in and attack it.
Destroying its tentacle reduces the range of its charging attack, which can be blocked with a Shield.
Ad blocker interference detected!
Wikia is a free-to-use site that makes money from advertising. We have a modified experience for viewers using ad blockers

Wikia is not accessible if you've made further modifications. Remove the custom ad blocker rule(s) and the page will load as expected.